Machine vision can be defined as the usage of digital sensors that are wrapped in cameras, coupled with specialized optics. This hardware is connected to a significant processing unit run by proprietary software.
Machine vision is a multidisciplinary field which encompasses industrial automation, optics, computer science, and mechanical engineering. Historically, the tools which utilized machine vision were focused on manufacturing. But that is quickly changing and their use is gradually spreading into everything from basic research to medical applications. And even (surprisingly) into movie making.
For example, machine vision can drive real-time quality control systems, or control equipment like manufacturing robots.
Machine vision system is best for boosting the assembly line quality. How?
Machine vision has become indispensable for quality assurance and material handling in every industry. Especially in manufacturing along assembly lines.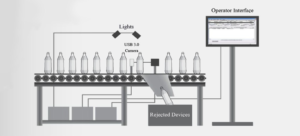 The set up usually consists of simple lights and small industrial cameras that are mounted near the assembly lines in order to take pictures of the product specimen along the line. The captured images are digitized, and further analysed by software which compares a particular specimen to a "good" and "no good" library. It rejects "no good" specimen based on whether various aspects of the products are able to meet acceptable specifications. For example, the system can reject a specimen because the product label is misplaced. This process is carried out in a fraction of a second.
With time, the cost of installing machine vision systems are decreasing with the increase in technological advancements. Lately machine vision systems are gaining loads of popularity and are used for inspection of packaging, seal integrity, geometry, labeling, finish, color, bar code, pattern, and other criteria.
Why Machine Vision Systems are replacing human inspections?
Machine vision system has proved itself to a be superior replacement to human vision system for a number of reasons:
The plug and play advantage: The USB is the backbone of any wired connectivity circuit. Machine vision system using USB delivers the bandwidth that is required to support the transmission of uncompressed and raw data which provokes real time analysis. With USB 3.0 and its 5-Gbps throughput (which is almost ten times ,the USB 2.0), the possible problems of low latency and stability for camera control and image transition is being resolved.
The human error: False rejections, and passing of defective specimen are much smaller with machine vision, as compared to human inspections. The machine vision system focuses on being "smaller, smarter and faster". Most systems are portable and the imaging application (even those controlling high-accuracy manufacturing robots), run on simple PCs.
Video advantage for users: With no additional cost, machine vision systems generate an uncompressed and high quality video feed which can be used as CCTV for real time analysis.
Major components of Machine Vision System that makes it an excellent consideration for replacement:
A staging or a fixture required to place the part in the front face of the camera.
PIP sensor or a part in place which notifies the vision system whenever the part is feasible for verification and testing.
Lighting required to illuminate the part: For every Machine vision system a proper lighting is critical.
Hardware for placing the camera image into one or multiple processors and
Software in order to verify and test as well as understand the communication.
Blueprint of a Machine vision system